Generated: Wed Feb 22 2006 20:22:33 GMT+0530 (India Standard Time)
User Agent: Mozilla/5.0 (Windows; U; Windows NT 5.1; en-US; rv:1.8.0.1) Gecko/20060111 Firefox/1.5.0.1
Build ID: 2006011112
Enabled Extensions: [21]
Adblock Filterset.G Updater 0.3.0.1
Adblock Plus 0.5.11.2
Add Bookmark Here 0.5.5
autoHideStatusbar 0.3.2
ColorZilla 0.8.3.1
CuteMenus – Crystal SVG 0.9.9.68
del.icio.us 1.1
Download Manager Tweak 0.7.1
Extended Statusbar 1.2.4
Fasterfox 1.0.3
Findbar Basics 1.2.08
FlashGot 0.5.9.993
Gmail Manager 0.4.3.3
Leet Key 1.3.1
MR Tech Local Install 4.2.1.3
SearchPluginHacks 0.1.3
Tab Mix Plus 0.3.0.4
Yahoo! Photos Easy Upload Tool 2005.10.12

Installed Themes: [4]
Azerty III 2.0
Crystal Dream 1.0.2
Qute 3.0.4

Installed Plugins: (10)
Adobe Acrobat
Microsoft® DRM
Mozilla Default Plug-in
QuickTime Plug-in 7.0.3
RealPlayer Version Plugin
RealPlayer(tm) G2 LiveConnect-Enabled Plug-In (32-bit)
Shockwave Flash
VLC multimedia plugin
Windows Media Player Plug-in Dynamic Link Library
Yahoo Application State Plugin

This is the current state of my firefox customization. I tried hundreds of extensions available but this is the list of what I'm using right now. All these make firefox an almost perfect browser. I would still suggest Opera for speed but if you want it the way you want it.. Firefox is the only option.

Screenshot :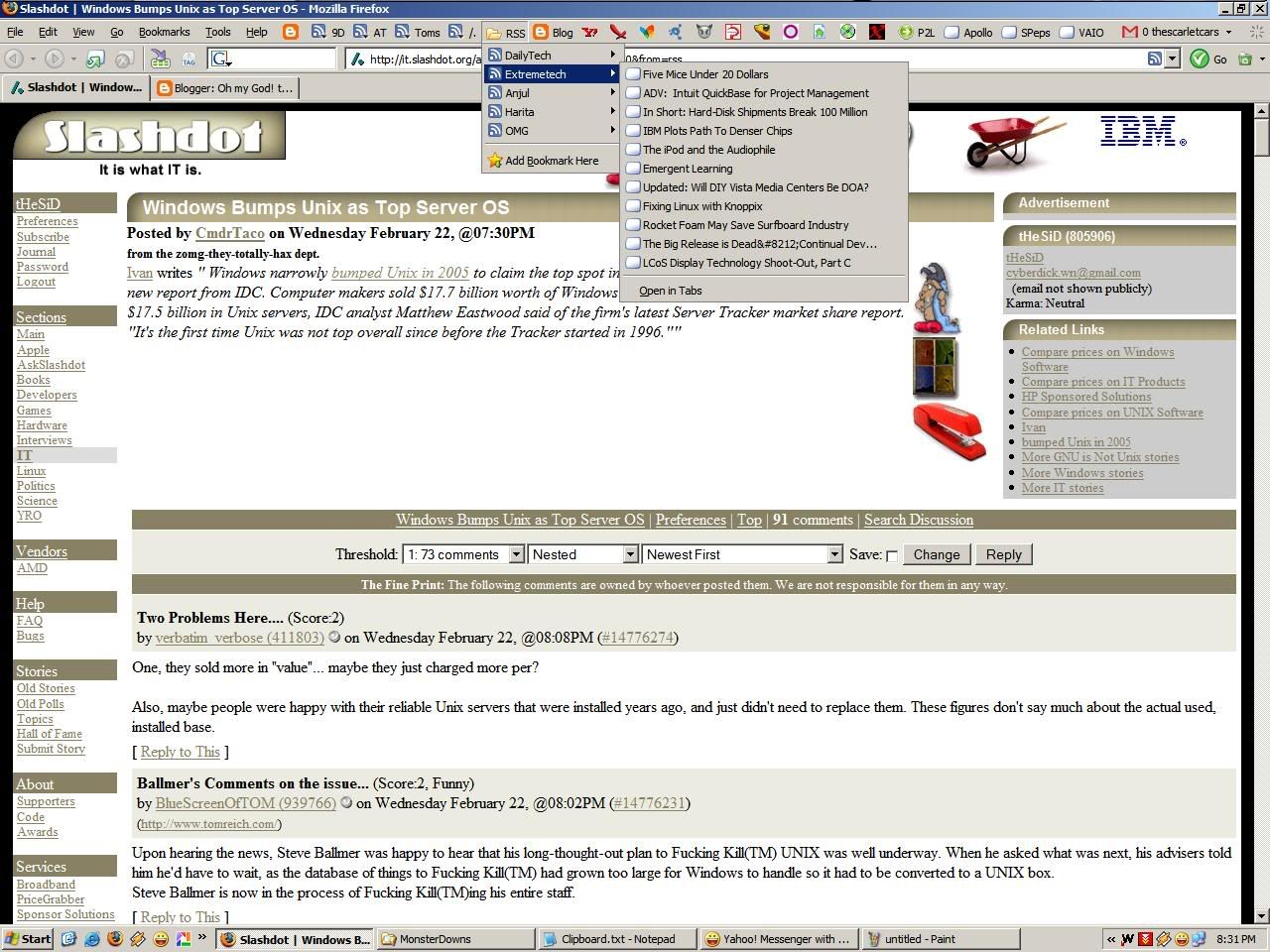 Qoute of the Day :

Sheila (Kyle's mom): Just remember what the MPAA says: Horrific, deplorable violence is okay, as long as people don't say any naughty words!